Shakeology

Shakeology meal replacement shakes…. The healthiest meal of the day!
Are you looking for simple way to transform your health? All it takes is one glass of Shakeology® a day. This ultra-premium nutritional health meal replacement shake contains the world's most powerful superfoods. It's the perfect combination of antioxidants, phytonutrients, enzymes, prebiotics, protein and many rare ingredients – including adaptogens, camu-camu, and sacha inchi – giving you the essential nutrients you can't get from an ordinary diet.
Replace one meal a day with Chocolate, Vanilla, Greenberry, Vegan Chocolate or Vegan Tropical Shakeology meal replacement shakes to increase your energy, reduce cravings, lose weight, improve digestion and regularity, and transform your health.* It tastes great, and it's just 140 calories (DEPENDING ON FLAVOR). Since you are getting pure nutrition in only 140 calories the Shakeology shakes make great weight loss shakes.
Enjoy healthy nutrition RISK FREE for 30 days
with Our Bottom-of-the-Bag Guarantee
If you don't feel healthier, more energized, and simply amazing, you won't pay. You can return Shakeology for any reason and get your money back (less s&h)—even if the bag is empty! (So you can purchase with confidence.)
To return, simply make a 30-second call to our friendly Customer Service team, rated "A" by the Better Business Bureau®.
Get "SUPER SAVING" shipping with Home Direct.**†
If you are looking for weight loss shakes then try Shakeology today.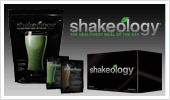 Here is what you get with all Shakeology home direct orders:
-Super Discount Shipping
– 30 Servings or 24 Servings with the individual Shakeology packs
– 30 day Bottom of the bag money back guarantee
-Online access to the Shakeology workouts
Price $129.95
Money Back Guarantee
Try Shakeology today and start your journey to improved health.  Try it for 30 days and if you don't feel more energized, healthier and simply amazing call our customer service department within 30 days for a full refund of your purchase price, minus shipping and handling- even if you drank the whole bag. 🙂
Need to change your recurring order? Click here.
Interested in learning more about Shakeology? Check out these Shakeology Podcasts.
*These statements have not been evaluated by the Food and Drug Administration. This product is not intended to diagnose, treat, cure, or prevent any disease.